Steadefi is the first automated yield strategy vault protocol for the Avalanche ecosystem. Using closed-loop undercollateralized leverage, we help yield seekers maximize their passive earnings while automating their position and risk management and increasing their capital efficiency. Our strategies also provide transparency for any investor with comprehensive PnL metrics, clear charts, and detailed user guidance.
Bear markets are hard on DeFi and Avalanche yield farmers.
Before the market drop in Spring 2022, any yield farmer attempting to earn with a volatile asset was caught overexposed to the upside, leaving them vulnerable to dramatic losses on the downside.
The Avalanche ecosystem, as a tight-knit and growing community, provides the stable liquidity Steadefi needs to operate smoothly. Innovative core protocols such as Pangolin, Trader Joe, and GMX will serve as the starting foundation for our strategy vaults as we attempt to attract more TVL, passive yield seekers, and institutions to the chain.
Newcomers to Steadefi are presented with two choices: risk-off lending and risk-on yield seeking.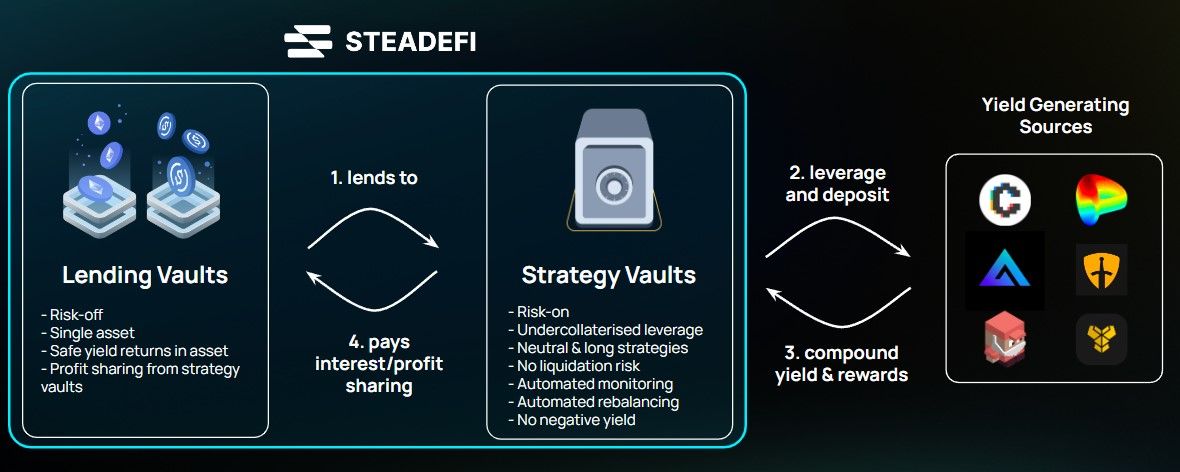 In the coming months, the lending and yield strategy vaults will steadily expand with a focus both on risk management and profitability for its users.
Avalanche's fast and low-cost blockchain, along with its strong ecosystem of DeFi protocols has allowed Steadefi to quickly and affordably launch its strategy vaults and serve users who are looking to maximize their yield earnings while managing their risks passively. ~Project Lead, Jeff Lam
About Steadefi
Steadefi is an advanced leveraged yield aggregator that focuses on maximizing yields from a variety of sources while managing market risks automatically. By providing undercollateralized leverage to automated yield strategies, Steadefi caters to both risk-on yield seekers and risk-off lenders. Our current featured strategy vault is the 3x Long GLP Vault built on the GMX perpetual trading platform.